Our award-winning and highly acclaimed flagship floorstanding model of the Platinum SE series has been revised and introduced in a new version. The second edition of the Platinum F-100 SE provides even better sound performance offering unbeatable value to performance ratio much beyond its price level!
We have once again raised the bar by incorporating significant constructional changes which affected the sound performance.
Now you will love the F-100 SE v.2 even more…
TLIE (Taga Low Interference Enclosure) – our beautifully handcrafted enclosure is now even more rigid and neutral to vibrations and colorization. We have increased MDF walls thickness from 15mm to 18mm.
The 3rd generation TPTTD-II (Taga Pure Titanium Tweeter Dome) utilizes a differently shaped and lighter titanium cone – it allows faster, more accurate movement of the dome reflecting in more detailed and airy sound.
The 3rd generation TPACD-II (Taga Pure Aluminum Cone Driver) – new adjustments and refinements along with revised magnet structure (oversized double magnet Φ 90 /  Φ 80) provide even higher power handling and more rich, spacious and sweet mids.
The 2nd generation TWCD-I (Taga Woolen Cone Driver) with different composition of cone materials – the cone is lighter so can move faster generating better defined, more dynamic and faster bass performance. And the redesigned voice coil utilizing thicker and purer flat wire offers even higher power handling and longer operation time without increased temperature.
New configuration of the drivers: the tweeter is positioned closer to the midrange than in the previous version to provide even better smoothness between high and mid frequencies. The woofers were moved a little up in order to change bass definition and its dispersion.
The dramatically upgraded crossover to meet new refinements and configuration of the drivers: more delicate and rich treble, better defined midranges and more dynamic bass.
Supplied extra aluminum spike supports provide extra stability for the speakers and protect the floor from being scratched.
The Platinum F-100 SE v.2 showcases all the qualities of dedication and love of music, groundbreaking developments in speaker design and technology which have inspired TAGA's designers and engineers.
---

"BEST OF THE BEST"
"…looks great and produces impressive sound at this price."

Stereo set: Platinum F-100 SE v.2 speakers and Marantz electronics wins in the category:
SEPARATES HIGH FIDELITY SYSTEM
OF THE YEAR
T3 magazine (India)

Listening

"We would like to draw your attention to the

placement of the speakers. Each change of their placement and position relative to each other brings noticeable changes…
What stands out from the beginning it is the way how a musical scene is built. The modeling of the musical image could be rather considered closer to the one that good monitors are building rather than this size of the loudspeakers. This is one of the greatest strengths of these speakers.
It seems to us that it is the result of good matching of high and mid drivers. Of course, it is not that there is some lack of the lowest registers, but they are not so crucial for building the scene. Large symphony orchestras are not a problem for them.
Thanks to high accuracy in the high-mid tone range in the previously mentioned large compositions we get a palpable, selective and spatial sound…
During the listening sessions, we noticed that it is rather not a warm sound but it is natural and balanced throughout the range, so that we receive an accurate music message…
We do not have to guess whether the sound came out or not. It is simply audible. The micro-dynamics is really a big advantage of the speakers. Voices, especially female, are not artificially colored…" 
Summary
"Bearing in mind the above, one cannot pass indifferently by this product which does not only sound in a very natural way but additionally its quality of workmanship is attractive and it is priced very reasonably. With a clear conscience we can recommend the Taga Harmony F-100 SE v.2 to those who value quality for reasonable money and seek natural sound performance…
For the whole "price / quality / sound", we award the Taga Harmony Platinum F-100 SE v.2 AUDIOMUZOFANS RECOMMENDATION"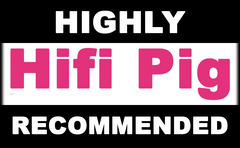 Sound

"…there's a feeling that you are listening to a more expensive speaker than you actually are. It's quite an "audiophile" sounding speaker that will appeal to those looking for a smooth, balanced and unforced presentation that is easy to get on with and very easy to get lost in…
…Nothing really jumps out at you and suggests that the speakers are over emphasizing any particular frequency range, despite my initial thoughts that the aluminum cone driver would be a little harsh sounding…it's just not!"
Conclusion 
"These are a pretty luxurious statement that will grace many homes and appearance-wise they look like a much more expensive loudspeaker. Thankfully this is carried through with their presentation and what you get is a really nice and elegant sound with lighter material that will please many who listen to this kind of music. They're also not too fussy about where you sit and will sound good even out of the sweet spot which is a bonus for the kind of people I think these will appeal to.

They also boogie too and you can turn them up and get the party going with the proper music. I do feel that you need to really turn the volume up to get the very best out of them with this kind of stuff…but then that's what it was made for!
…sit back with your favorite tipple, put on the music you love and let them take you with the flow.
I really enjoyed my time with them."
AT A GLANCE
Build Quality:   Well put together and luxurious looking
Sound Quality: Sound more expensive than they are and have a laidback, and smooth presentation many audiophiles will love at lower volumes. They can also move air and party when asked.
Value For Money: Excellent value for money package
Pros:
Look great
Sound like a more expensive loudspeaker
Audiophile type presentation
Easy to listen to for long periods
Crank up the volume and they're great fun
Cons:
Can get a tad confused with complex passages
That audiophile presentation won't suit everyone

Outstanding Overall Performance Awards-2015

Hard to beat by the competition.
"…Carpentry, fitting parts and the final finish of the Platinum F-100 SE v.2 excel in the middle of the premium segment. Without a doubt the speakers will be a decoration of the listening room.

…when Taga Harmony is connected to an amplifier and music is on, you  immediately know that you are dealing with a very advanced design – a thoughtful and refined – tonally completed. It just can be heard. You feel the beautiful harmony, high energy and dynamic, complement of the sound – you feel its huge mass and large potential of the bass, which is perfectly controlled and diversified. The message is clear in each frequency range, very juicy and smooth; it is expressive but at the same time elegant in its nature. Added to this is large expansive of the sound – it is fast and spreading perfectly throughout the listening room. In addition, the designers have kept an excellent balance between high energy, mass of the sound and their high culture which is present in audible numerous subtleties and nuances of the sound. Discipline and order in the conduct of the sound are excellent – it is their very big advantage.

The musical space is really big: wide, deep and extensive. At the same time it is precise and realistic. Unscaled. The instruments have proportional size and dimension, precise location, the appropriate muscularity and sonority supported by audible acoustic reverberations. The 3D phenomena are extremely engaging, the scene extends far beyond the line of the speakers, almost from the wall to the wall. It is worth noting that the vocals on the background of the instruments sound very convincing and suggestive. Charismatically. The human voice sounds plastically and warmly, you hear lots of sparkle and verve. You feel an authentic impression of connection with the artists, like being at a concert or a play. It is a natural sound, close to reality. It sounds literally and obviously.

The highs are fast and clear (and even illuminated), but they do not tire our ears with sibilants. Similarly to other frequency ranges the highs are proportional but not over-exaggerated."
Best Buy 01-2013

" …the sound was lightning-fast with a low, powerful, extended bass and spaciousness being created on a grand scale .. dynamic capabilities deserve a special attention…
The F-100 SE impressed me especially with their sound transmission on a macro scale, precisely performing large volume strokes without prejudice to spatiality and without losing the rhythm …
TAGA Harmony are open sound speakers firmly emphasizing the dynamic contrast and as such will sound excellent with all kinds of musical genres which are based mainly on spaciousness and the power of sound.
… they can perform very well in pretty large rooms, without a need for  an above-average powered amplifier. TAGA Harmony speakers utilizing their 3-way design are able to focus one's attention on particular elements of sound, allowing the listener to immerse into the nuances of the recordings regardless of the frequency range.
Summary:
The F-100 SE are speakers that provide neutral and accurate performance of a high caliber"

"The speakers surprise with versatility of playback capabilities in high volume levels. The midrange is very flat and perfectly fits the rest of frequency ranges. The high frequencies are clearly beautiful, with a good sharpness and tonality. The pulsing bass range with an outstanding musical clarity is hard to be beaten in the price range up to 6400 US$.
An extensive scene with stable plans created in the direction of a listener allows enjoying the nuances recorded on a disc…
In its price range the F-100 SE offers a great versatility of sound and that is the reason it will remain with us as the "Editorial Equipment" 


"The debut of TAGA in our editorial office is impressively succeeded: Those looking for beautifully designed and high-quality finished loudspeakers at a very fair price should absolutely see and listen to the Platinum F-100SE. The dynamic speakers with a very lively sound in the listening room and offering everything your heart desires from powerful bass to fine resolution trebles."